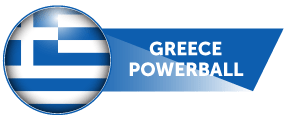 Lotto fans have several chances of winning the Greece Powerball jackpot when they play the lottery game online. This guide provides useful Greece Powerball predictions for today and bettors can place their bet to win. Greece Powerball is one of the most popular lucky numbers draws from the international markets that you can play at top Nigerian betting sites.
The Greece Powerball draw takes place every week on Thursday and Sunday evenings. Both draws close at 20:00 and NG betting sites will provide a countdown for players to check when the next draw date is. Players can also find the Greece Powerball latest results history that displays previous draws to check if they've won.
Where to Play Greece Lotto
Operator

Bonus

Features

Claim Now

Welcome bonus




of 100% Up To 100 000 ₦




✔

FREE Bets

100% up to €50




Cashback: €500




✔

FREE Bets

100% Match




Bonus Up to €50




✔

FREE Bets

100% Match
Up to $100




✔

FREE Bets

100% UP TO €25
+ €10 FREE BET




✔

FREE Bets

300% Bonus




Up To ₦145,600




✔

FREE Bets
The Greece Powerball Reviews
The Greek version of the Powerball, called Joker or Tzoker, was created in 1997 and has excellent prizes to offer. Every week it has draw-style lotto results available online determined by OPAP (Organization of Football Prognostics). Many Greeks have won surprising sums due to its attractive rewards with "winnings beyond imagination".
Are you hoping to be a part of Greece's luckiest lottery players? Look no further than the Greek Powerball! This particular lottery has an impressive track record - with over one billion euro jackpots won since its inception and 1.5 billion euros in prizes for the lower prize tiers, this game has already made multiple millionaires out of ordinary people all over Greece. To take your chance at fortune, simply purchase a ticket at any OPAP retail agency and find out if you become the next big winner!
Rules to Play Greece Powerball
Players from Greece can check the official Powerball website to view the most recent results and to determine if they have become lucky winners. Those who believe they may have won can also contact the official outlet for confirmation of their Powerball winnings. If you want to know the powerball results from Greece, you should purchase your tickets through an authorized channel or vendor. Attempting to buy tickets through unapproved outlets may mean that you are not eligible to receive any winnings from such a draw.
The Greece Powerball draw is only open to persons aged 18 or over. Greece Powerball players have a tight deadline to claim their prize money. All winners are given only up to two days from the draw date to claim their winnings. After this, the prizes will no longer be valid and any unclaimed jackpot money goes back into the prize pool for future drawings.
In Greece, the Powerball lottery results are determined by seven divisions. Division 7, which requires two correct numbers plus the Powerball number and costs two euros, is the most popular winner with a maximum prize of two euros. Division 6 follows with three correct numbers and also costs two euros and fifty cents. The least common winning combination is in Division 4 which requires four correct numbers and costs fifty euros while Division 5 requires three correct numbers as well as the Powerball number and also costs fifty euros.
Powerball is a popular game in Greece that requires players to select seven numbers, with one being the Powerball. The most frequent winning combination occurs when two of the numbers and the Powerball are correctly chosen, awarding a prize of two euros. This particular combination is called Division 7. Division 6 of the Greece Powerball lottery awards prizes to players who match three winning numbers. The cost of playing in this division is €2.50. It follows Division 7 in order of precedence, making it one of the most popular among players looking to win big with minimal fuss.
The latest Greece Powerball results are out, and the winning numbers in Division 4 are 4 Correct Numbers, while Division 5 was made up of 3 Correct Numbers with the Powerball. Winners in these divisions can check their tickets to see if they have won a prize.
Game Criteria & Prizes
Are you looking for Greece Powerball Results? If so, players can expect to win Division 7 when they match two correct numbers and the Powerball. This division requires a cost of €2.00, while Division 6 (3 correct numbers) also costs €2.00. Both divisions give players the chance to claim the maximum prize amount!
Division 4 of the Greece Powerball requires players to match four numbers correctly on one ticket. Players must purchase a ticket for €50.00 to enter the draw and must be lucky to win Division 5, which requires matching three numbers including the Powerball number.
Odds of Winning
| | | | |
| --- | --- | --- | --- |
| Division | Numbers Matched | Prize Amount | Odds of Winning |
| 1 | 5 + Joker | Jackpot | 24,435,180/1 |
| 2 | 5 | Variable amount (3.85% of prize fund) | 1,286,062/1 |
| 3 | 4 + Joker | €2,500 | 122,175/1 |
| 4 | 4 | €50 | 6,430/1 |
| 5 | 3 + Joker | €50 | 3,132/1 |
| 6 | 3 | €2 | 164/1 |
| 7 | 2 + Joker | €2 | 247/1 |
| 8 | 1 + Joker | €1.50 | 53/1 |
How to Play Greece Power ball
Also known as Greece Joker, the lotto game follows a similar process as other popular Powerball draws. Learn how the Greece Joker lucky numbers game is played and increase your chances of winning millions of Rands.
Sign up to an online sports betting site that offers Greece Powerball
Choose your lucky numbers (the draw allows you to pick five numbers from 1-45 along with the Powerball bonus ball from 1-20.
If you don't have any special numbers, you can use the Greece Powerball number generator. It will automatically generate numbers using a computer algorithm that picks the hottest numbers in the draw.
NG bettors can enter a single draw or multiple Powerball draws.
Click the confirm tab and choose the betting stake. The more you bet with, the higher the payout.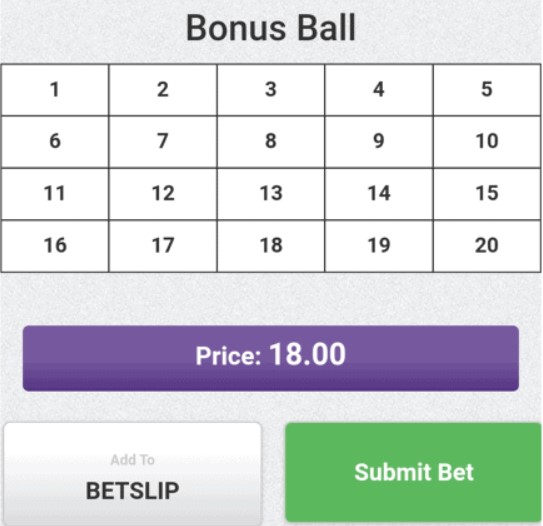 Greece Powerball Payout
Players can maximise their betting stake to win big when betting on Greece Powerball hot numbers. NG players generally choose the amount of numbers they bet on based on the payout that they stand to win. However, you must match all six numbers correctly to win the jackpot. Here how the payout odds are distributed:
| | |
| --- | --- |
| 1 Ball (Main) | 8/1 |
| 1 Ball (Bonus) | 18/1 |
| 2 Balls (2 Main) | 80/1 |
| 2 Balls (1 Main & 1 Bonus) | 170/1 |
| 3 Balls (3 Main) | 1000/1 |
| 3 Balls (2 Main & 1 Bonus) | 1650/1 |
| 4 Balls (4 Main) | 10000/1 |
| 4 Balls (3 Main & 1 Bonus) | 19000/1 |
| 5 Balls (4 Main & 1 Bonus) | 190000/1 |
| Bonus Ball Odd | 9/10 |
| Bonus Ball Even | 9/10 |
| Bonus Ball Highd | 9/10 |
| Bonus Ball Low | 9/10 |
Greece Powerball Prediction
If you search the internet for www Greece Powerball you will find several predictions on tonight's Greece Power ball draw. There are several tipsters on the web that claim that they have the failproof strategy to win every time. In reality, they look at Greece Powerball hot numbers to determine their choice and try to avoid cold numbers. For all Nigerian players that want to bet on Greece Powerball, here are some things to consider:
Players must do background checks before they set up an online account to play online. There are several sites that scam players or delay paying players.
You must be at least 18 years of age to take part in online gambling.
While you are waiting for the next Green Powerball draw, here are other lucky numbers draws that you can try out.